Welcome to my catalog of woodworking projects I have tackled. I put this together so I could remember the different projects I have built so far. I hope to keep updating this webpage as I create new woodworking projects and learn new skills. Enjoy!
Project Index, in reverse chronological order....kind of (updated 12/20)

22. Potting Bench
21. Toy Crane
20. Kids Swords
19. Tensegrity
18. Plinko board
17. King Bed
16. Built-In Cabinets and Shelves
15. Outdoor Picnic Table
14. Hexagonal Fish Tank Stand
13. Indoor Bench II
12. Indoor Bench (Shaver)
11. Garage Wood Storage
10. Seder Plate Box
9. Knife Block - add on
8. Mail Holder
7. Baby Cradle
6. Worktable on Wheels
5. Quilt Rack
4. Router Extension Table
3. Game Cabinet
2. Seed Planter Boxes
1. Garage Bench

Potting Bench

Time of build:
2020

Built for:
The garden and the family
Wood used:
All reclaimed wood (and scraps from other projects)....Really!!
Description:
I am really proud of this project because it used only left-over wood and scraps from the garage. Got to clear out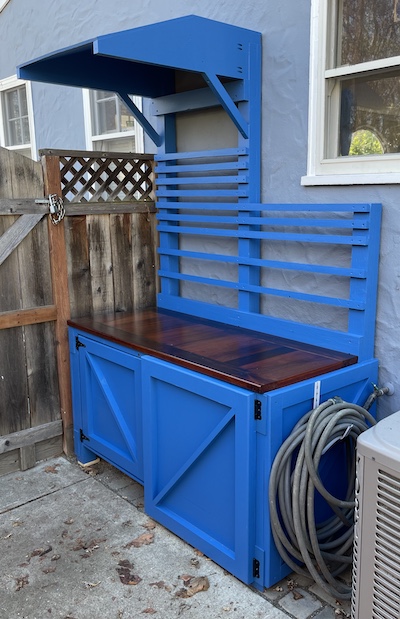 the garage of some old 4x4 posts, the remaining redwood deck wood that was still left over from the
outdoor picnic table
, and even 2 doors we pulled off the house when we moved in! I found a general plan online and adapted it to fit the space under the kitchen window. I had to dig up the area under the window and put some left over pavers to make it 'flat' to start the entire project off. My wife picked the color (we both thought the blue would be a bit darker) and it looks great! I would love to re-write history and say I planned to have two different style doors to showcase something...but the truth is I forgot to add the depth of the doors to my initial drawings and when I put it all together the left door was blocking the gate. Luckily the entire construction was put together with screws (I tried out pocket screws) and I took the left door apart and replaced it with one that was smaller and fit inside the frame. The top is a glue-up of the leftover redwood (barely had enough pieces to get it to size), finished with multiple coats of Linseed Oil + Spar Urethane in different proportions. Definitely a fun build and hopefully we will get some good use out of it!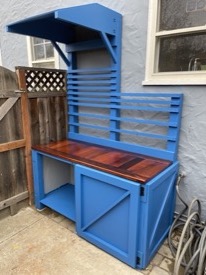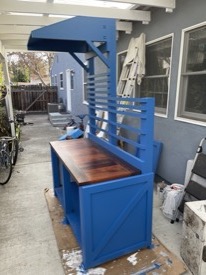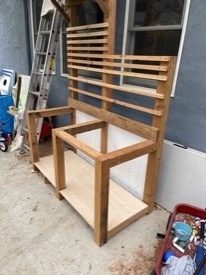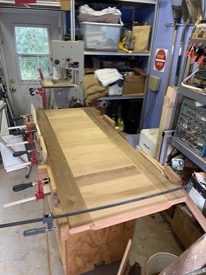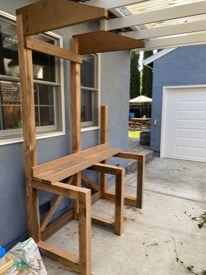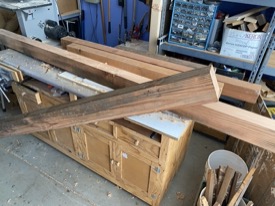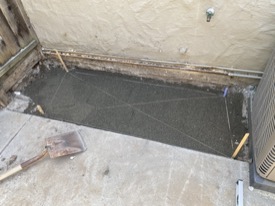 Toy Crane

Time of build:
2019?

Built for:
My Son!

Wood used:
Maple, Poplar, and Ironwood
Description:
I found this plan and it looked cool! My dad was building some wood toys near the same time and I thought I would try my hand at it with this crane. It was pretty fun and the knobs raise/lower the boom and the rope. I don't have a lathe so I cut the wheels using methods that were not super precise, but overall it came together and my son said he loved it. I would call this one a success given the customer was happy!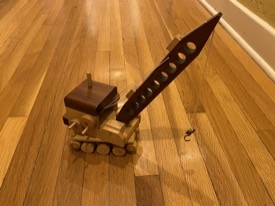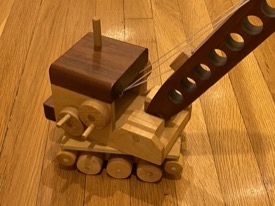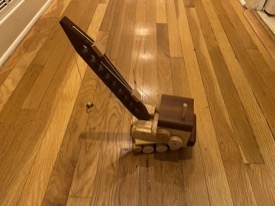 Kids Swords

Time of build:
2019?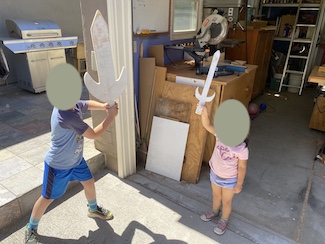 Built for:
Fun!

Wood used:
Plywood scraps
Description:
My son is great at drawing and drew some sword outlines on some pieces of wood. We decided to use the bandsaw to cut them out and make some swords. Definitely a fun process and the kids love playing with the swords in the backyard. Sometime later the kids painted their swords....although I don't have any pictures!
Tensegrity

Time of build:
2019?

Built for:
Fun!

Wood used:
Scraps
Description:
I saw this on some of the woodworking forums (e.g. tensegrity table). Thought it would be fun to build one out of scrap wood and see if it made sense to make something more 'fancy'. Definitely pretty cool, but haven't decided to make anything more for now.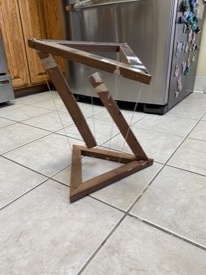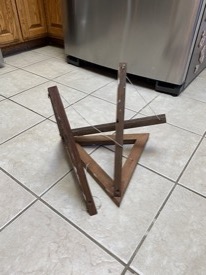 Plinko Board

Time of build:
2017

Built for:
The Purim Carnival (temple preschool)

Wood used:
Plywood
Description:
A quick build for a pre-school sponsored event. Two pieces of plywood attached together with a hinge to make it "easy" to fold and transport. My dad was nice enough to turn the discs. Another volunteer was responsible for painting. Lots of individual dowel pegs cut, drilled, and glued in place. It has been awhile since the build, but I think I used a hand jigsaw to cut the curves on either side. Take a look at this video of it in action!
King Bed

Time of build:
2016-2020 (Yikes!! this one took awhile)

Built for:
My Wife (and me too!)

Wood used:
Mahogany, Walnut, Maple (plywood)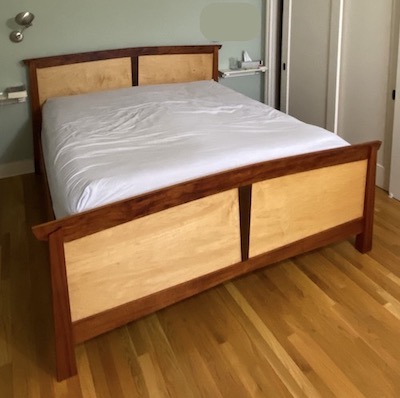 Description:
This was definitely a labor of love (also of sweat, time, and much learning). My wife was interested in getting a headboard for our previous bed (circa 2016) to have a real 'adult' bed. I thought it was also time to try my hand at making a bed and said I could probably finish it up by the end of 2017 at the latest. Four years later....the 'decade of the bed' was over and we have been enjoying restful sleep ever since. I found some inspiration of the design from some pictures of online and decided to try making it my own. Several anecdotes throughout this build:
Our local hard wood store went out of business and I bought a bunch of mahogany to help finish this project
I originally thought of trying to use birds-eye maple veneer (in honor of Jenny's grandfather who used birds-eye maple in some of his woodworking projects) on the large panels (even bought some veneer and glue). But after some failed attempts with trying out the veneer process on smaller pieces and having not great looking results, I gave up and bought some nice maple plywood.
The staining process was quite involved (I tried something from a Wood magazine). Essentially creating a slurry by sanding in the stain/finish with progressively increasing grit. I don't even remember the process at this point, but still have the magazine if I ever decide to go back to try it again. I think the final coat was some clear wax (Bison brand?).
The bed took so long that there were several times when I wrapped up all the pieces (at different stages and put them away for several months at a time) just to make room for other projects

And now for lots of pictures!! You will notice many different "assembly areas"...What a process!!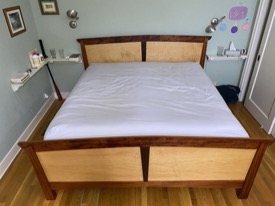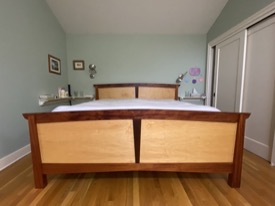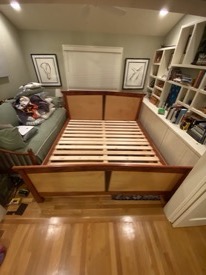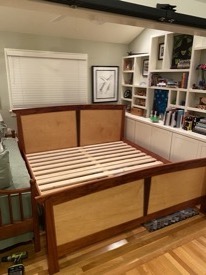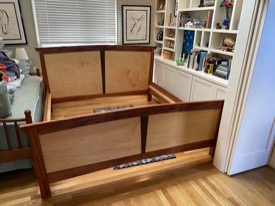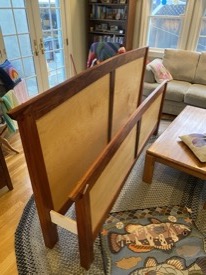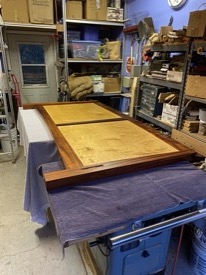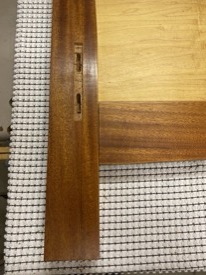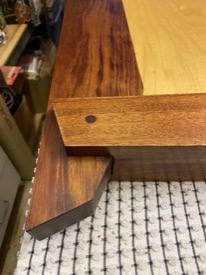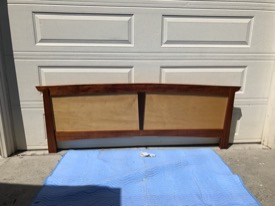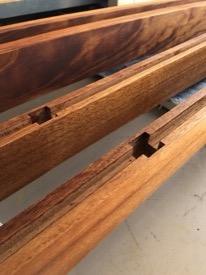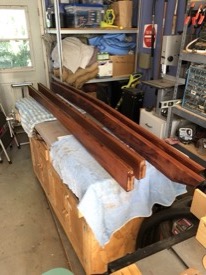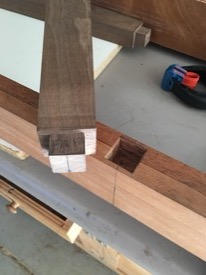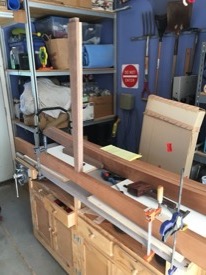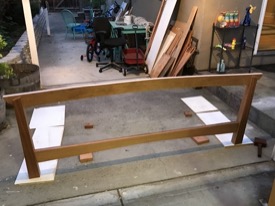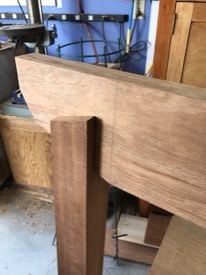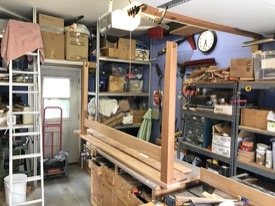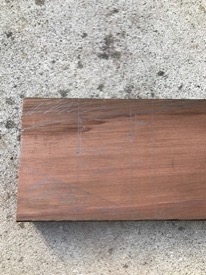 Built In Cabinets and Shelves
Time of build:
2015-2016

Built for:
The House, Add on room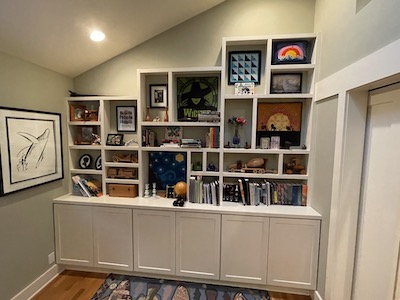 Wood used:
Plywood and Wood easily painted
Description:
We enclosed an outside patio area into an additional room for the house and we "commissioned" this built-in with my Dad. My wife drew out the shelving specific for hanging quilts and displaing some of the wood trucks my Dad had previously built. It has been awhile, but I recall my Dad came up and installed the base/cabinets that he had pre-built at his house. He also had cut out the top shelving pieces. Unfortunately time ran out and he got as far as he could before he had to go back home (sometime around Thanksgiving/Christmas). I was tasked with finishing it all up! It came together pretty quickly, but then filling in the gaps, painting, and making some custom pieces to fit the non-square walls of our house took some time. I really like the look of it and it really matches the room (particularly the barn doors that were installed by the contractor when the room was added to the house).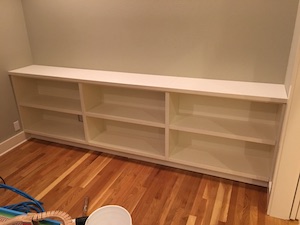 Outdoor Picnic Table

Time of build: 2015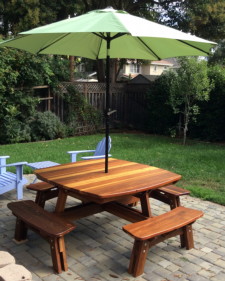 Built for: The Family!
Wood used: Repurposed from redwood deck
Description: This one took quite some time! We started by pulling up an old deck in our backyard and storing the wood along the side of the house. The wood sat for quite some time and then with the help or my jointer and my dad's planer, we were able to get the wood to a point it was usable for a project like this. I got the plan from a Wood Magazine and I think it really came together nicely. My wife arranged the top boards so the color/grain made a nice pattern. The finish is a combination of Linseed oil, Spar Urethane, and Mineral Spirits (varying amounts depending on the coat). I like how things came together, although it definitely took longer than I thought. This big project was a bit unwieldy to work on in the garage but I am very glad it is now in our backyard and available for use!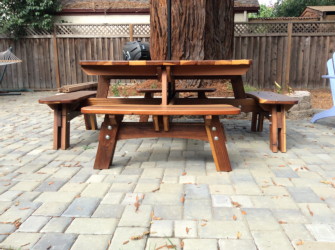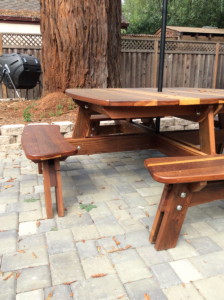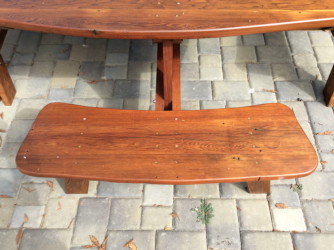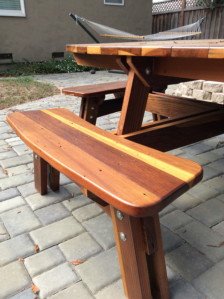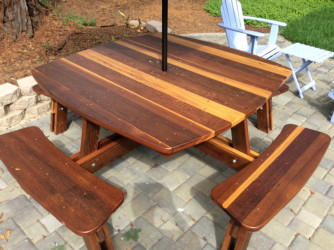 Hexagonal Fish Tank Stand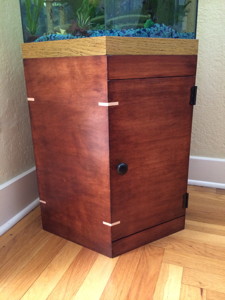 Time of build: early 2014
Built for: The Fish...
Wood used: Leftover plywood
Description: We had an old fish tank from Jenny's childhood and were looking to upgrade. Luckily my brother and I had given my mom a fish tank to grow orchids when we were young and she didn't want it anymore. We repurposed her "orchidarium," but we needed a stand for the hexagonal tank. This custom design is fairly simple and matched the base of the fishtank. I did practice all the miter cuts on a smaller version to get the angles just right. I made one of the sides into a door and I think it came together fairly nicely. I used a dark stain (not the Java...something slightly lighter that I don't remember the name of). As a bit of a decorative touch (and because Jenny kept saying the stand needed to be strong and not fall apart...), I added two maple splines to each of the miter joints. The splines extend to one side door and "match" up when the door is closed. A fun project!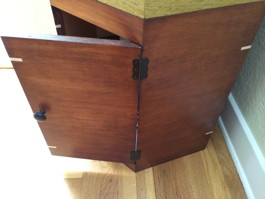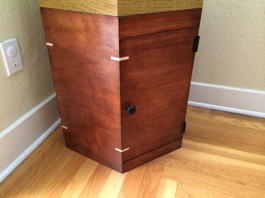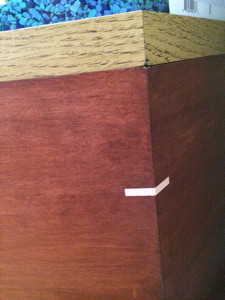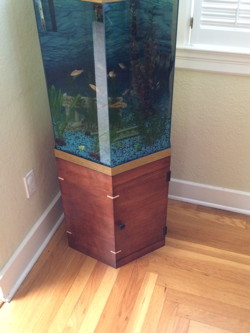 Indoor Bench II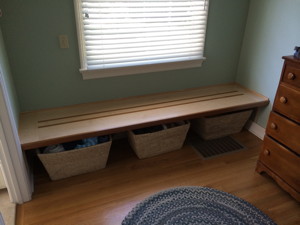 Time of build: mid 2013
Built for: My Wife
Wood used: Cherry and Maple
Description: The Shaver Bench was my downfall. Jenny liked it too much and wanted me to make something similar for our master bedroom...with a few modifications). First she wanted it to look nice(r). Second she wanted it to be able to have storage for large containers underneath. Third she wanted it to look nice. I liked the look of the two contrasting woods with the Shaver Bench, but wanted to do something a little cleaner (not sure what I mean by this...but this was a thought going through my head). I decided on Maple and Cherry, as I had good success with those woods when I built the cradle. I measured out the bench requirements and first found out that all my 13/16" Maple was too short. I could either get fancy, or buy more wood. Being cheap, I decided to 'bookend' the center of the bench with maple running with perpendicular grain. The end product looked pretty good, but getting the glue up to look as good as I wanted was not trivial.
From the Shaver Bench experience, I decided I didn't want to ad-hoc the bottom structure, so I built the whole thing on a piece of sturdy plywood. I added an extra deep cherry lip to the front so it looks like the solid wood I used for the bench top is thicker than it really is. Instead of using the jointer, I just cut all the pieces on the table saw. That saved time and still made the glue-ups line up.
I am proud of the supporting structure underneath the bench. I originally planned on bracing the bench on three sides and only putting a backer on each wall the bench would rest against. This way the bench wouldn't have any legs and Jenny could have all the storage space she wanted. Unfortuantely, once we put the bench on the backers, it looked good, but there was a substantial deflection of ~1/8" in the center front when we sat on it. The whole thing didn't feel sturdy. So, with the help of my Dad, we build some supporting struts that we connected to the front of the bench that extended at an angle and connected to the back wall. After tightening some things down, the bench feels solid, has a clean look, and Jenny has her storage space. I finished the whole thing with water-based poly applied using my Harbor Frieght HVLP sprayer my Dad got for me as a gift.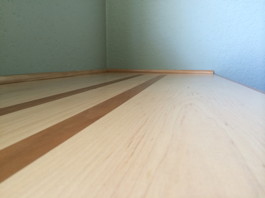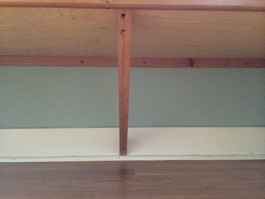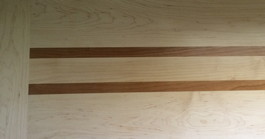 Indoor Bench (Shaver)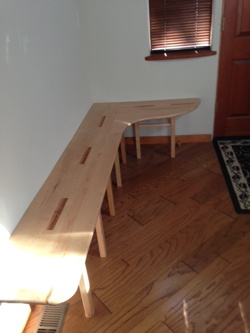 Time of build: early 2013
Built for: My Mom
Wood used: 13/16" maple (assorted widths I usually get from Southern Lumber), random cedar from a tree my parents cut down in Shaver, more maple for the legs
Description: This project took awhile to get off the ground. It started because my mom wanted to have a different bench in their Shaver Lake home. After some drinking, I said I could make a bench if they gave us their old bench (cast iron sides with wood slats). It seemed like a good trade as we got a bench right away! My Mom laid out the rough shape she wanted the bench to have in the foyer area and she taped and cut out some newspapers so I could take that rough shape home.
I designed the entire thing from the rough shape, building the top first. I wanted to try something new, so I decided to incorporate some of the cedar logs my parents had given me from a tree they cut down into the bench. I settled on making 1.5" x 8" blocks that I incorporated in the glue up of the top. The top was done in two separate pieces, the long ~8' part and the shorter ~3' curved part. I used the jointer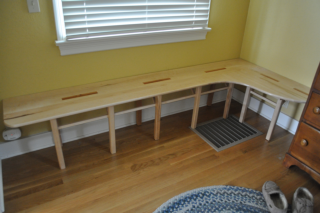 to get all the edges of the individual glue ups nice and flush (some hand work here and there). To get the two glued up pieces together, I clamped them down and used the router to cut them simutaneously in one pass. This was not easy, but the different orientation of the wood did end up gluing up ok. I probably over-built the legs and support structure, but I didn't want it to fall apart. The picture to the left is the bench in the master bed room at home...Jenny wanted to see how a bench would look there and whether or not I should be making something for our home (that was the start of the Indoor Bench II project). The bench was finished with water-based polyurethane (probably could have put more on than I did).

Overall I am pleased with how it turned out. Once again I learned a lot (probably mostly forgotten now). It was great to incorporate some lumber from a tree my parents cut down and the low profile of the bench is exactly what my Mom wanted. Fun project...now that it is done.
Some pictures from when I just put the bench together in the garage...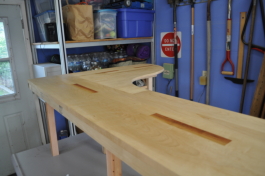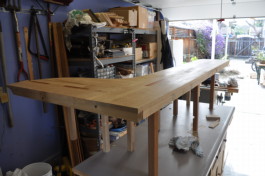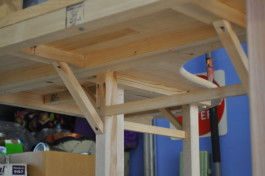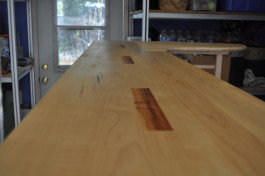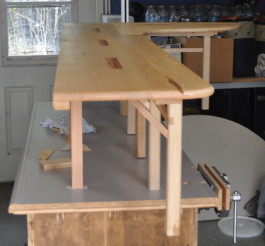 Wood Storage - Garage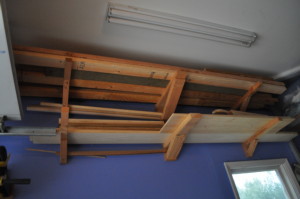 Time of build: ?? not sure
Built for: The Garage
Wood used: Leftovers
Description: I needed a place to store some wood in the garage. Floor space is at a premium so I decided to build some overhead wood storage. As always, this project is probably over built...but I didn't want any wood crashing down onto my head! It works really well and I can use either my ladder or the worktable on wheels to easily get access. Now I have no problem buying the "cheap" 13/16" maple at Southern Lumber and storing it myself so I can start a project with it any time.



Seder Plate Box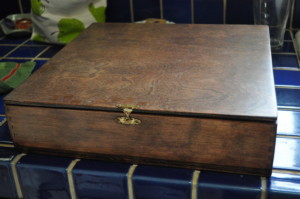 Time of build: mid 2012
Built for: The Seder Plate
Wood used: Poplar
Description: Jenny and I got a Seder plate on our visit to Turkey. Jenny wanted me to make a box so the plate would be safe. Unfortunately, the box if functional but didn't turn out as nice as I wanted. I built a finger joint jig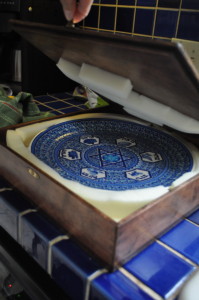 for the router to construct this box and that worked fairly well. The finger joints came together nicely (maybe a little tight to start), and I was generally pleased with the look of the box I designed. However, staining once again was an issue. The first go around I decided to use an old stain that I had lying around. It turned the nice box into a blotchy mess. UGH!! Why do I do this?!! We used the box for awhile, but every time I looked at it I was ashamed. I got fed up and resanded it a bit and tried to salvage the look of the Seder box with a darker stain (the General Finishes Java). It improved the look quite a bit...not as good as I would like, but now good enough where I don't cringe everytime I look at it. Lesson learned....at least until I want to finish off an old can of stain on a "side" project.
Knife Block - add on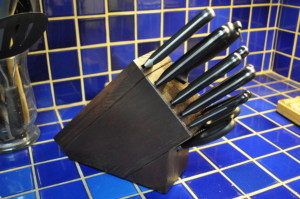 Time of build: mid 2012
Built for: The Kitchen
Wood used: Poplar
Description: Jenny gave me a fancy knife for my birthday in 2011 (it took awhile to get around to this project). We were happy with our current knife set and wanted an easier way to store the new knife. I extended the knife block with a new slot on the top. To get all the wood to match, I restained the entire knife block using the General Finish - Java stain I saw as being recommended from some wood working show or magazine. It turned out great and we are still using the knife block today!



Mail Holder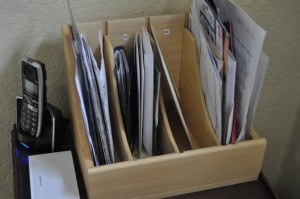 Time of build: mid 2012
Built for: Mail Storage
Wood used: Poplar
Description: Our mail kept piling up on the kitchen table and we didn't have a great place to store bills that we didn't want to pay right away. I designed this simple mail holder so we could put it on a counter/desk and keep our mail organized. There is a slot for me, Jenny, bills and mail waiting to be sorted. Fun project as I got to use the router to make most of the joinery. No screws or nails, just glue. I took a couple of pictures while the project was unassembled so I could remember the joints I used.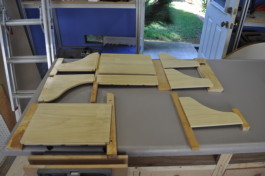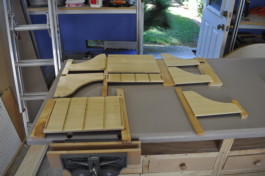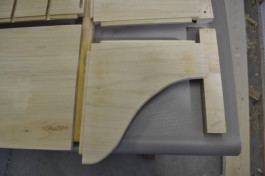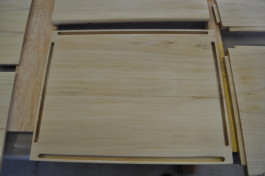 Baby Cradle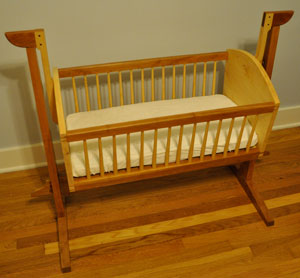 Time of build: Late 2011, early 2012
Built for: My Son
Wood used: Maple and Cherry, Walnut pins
Description: This was truly a labor of love. I am not sure if all new expecting parents go through this, but once we knew about Nathan, I really started fixing (or learning to fix) things around the house. I believe this is why all Dads know how to fix things...because they do so much of it before their children are born. I also wanted to build something for Nathan an Jenny suggested a cradle. The sides and bottom are made from 13/16" maple boards (assorted widths) that I got from Southern Lumber. The maple was surfaced on two sides and had one clean edge. I like the clean look of maple and getting the wood this way makes it a lot cheaper. I found this plan (not sure from where) and really liked the look of it and that the cradle easily swung back and forth. The dovetails are cut by hand (they are hard and I need to get better at cutting those). I really worried I would mess up the workpieces badly, but after practicing a few times on some blanks, I think they turned out well. I don't have a lathe, so I had my Dad turn all the spindles (Thanks Dad!). Nathan used this cradle for the first couple months of his life, but pretty quickly out grew it (he was a really really big baby). We pulled it out again for Dani and she got to use it too! Jenny now keeps the cradle in her quilt room to store yarn, so at least it still gets some use and is not stored away in the attic collecting dust.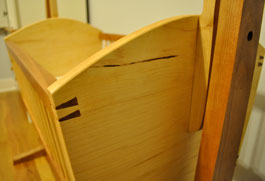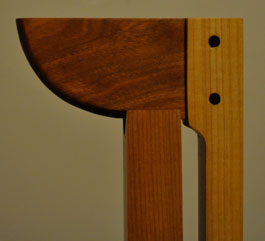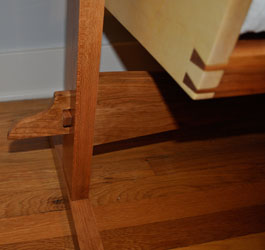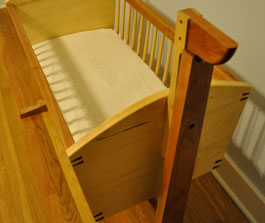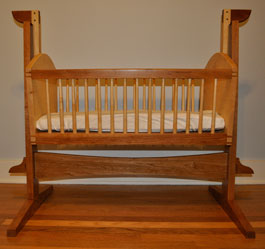 Worktable on Wheels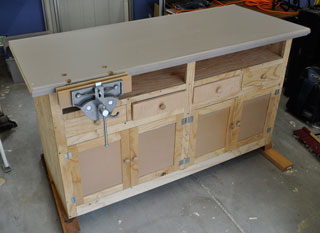 Time of build: mid 2011
Built for: Me!!
Wood used: left over 3/4" plywood, left over mdf, craigslist-found tabletop
Description: This project was quite a bit of fun to build. I used mostly recycled materials and now I have a worktable on wheels that gives me quite a bit of flexability on building things in the garage. I use it in some way or another for large projects and small everyday fix-its. I found the plan from a this book I picked up at a garage sale. One of the neat things about this build was more practice with frame and panel doors and a really neat way to make drawer joinery using only the table saw. I found the table top free on craigslist for an easy laminate surface to work on. I adjusted the plan (slightly) so I could use this table as an outfeed table for my table saw. The drawers and cabinets also open from both sides. I put a vise on one side which has also come in handy. A great garage worktable!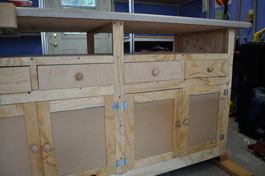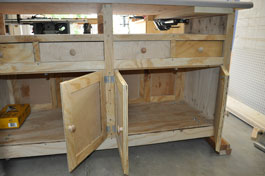 Quilt Rack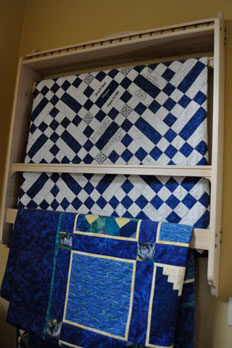 Time of build: late 2010
Built for: My Wife
Wood used: Poplar, cherry spindles, plugs and buttons
Description: My wife is an amazing quilter. I have spent more than my fair share of time in quilt stores, quilt festivals, and fabric shops. She actually presented me a quilt she had made for me on our wedding day in front of all our guests. Only naturally I would eventually make her something to help display her quilts. I searched for something to make her and came across this wall mounted quilt rack plan. This project actually came together fairly easily. The adjustable shelves are a nice feature and the cherry plugs and buttons really highlight the light color of the poplar. Some of the smaller parts I made by hand while the decorative sides I rough cut with a jigsaw and cleaned up by hand. Once again I used poplar, but this time I searched through the stack to get poplar that was uniformly lighter in color (no brown/green spots). After the fiasco with staining, I only used a clear top coat of polyurethane and let the wood speak for itself. I think it turned out well and the quilt rack is now hanging in our bedroom with several of her quilts on display, including the quilt she gave me for our wedding when it is too warm to use on our bed.
Router Table Extension for Table Saw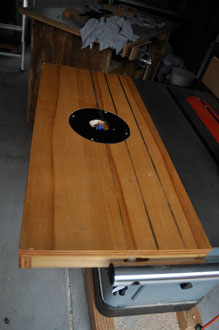 Time of build: early 2010
Built for: Me!!
Wood used: left over 3/4" plywood from the Garage Bench project and Game Cabinet
Description: My Dad gave me my grandfather's router (an old craftsman) to help populate my garage with tools. He said it was scary to use. He was right. So I built an extension to my table saw and replaced one of the cast iron pieces with a router extension table. It works great. The picture to the right shows the router extension table on my "new" Unisaw (also a Delta product), although I originally built it for my Delta contractor table saw (which I sold after I picked up the Unisaw from a friend). The router extension table is great and allows me to use the table saw fence (with another attachment I built for routing). I recently got a nicer router (not as scary), but I still use the router table I built. As my garage/workshop is not very big, it has been nice to have the table saw double up as a router table.
Game Cabinet (Shaker Storage Cabinet)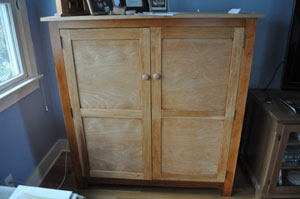 Time of build: mid-late 2009
Built for: Inside storage
Wood used: 3/4" plywood, poplar (face frame and doors), maple (glue-up top)
Description: Although the garage bench was my first project, this was my first REAL project for inside our house. I wanted to build something I could be proud of looking at everyday and that was also functional and that we could use everyday. I think I succeed with one of those. Our house doesn't have much built-in storage and we were storing all our board games out in the garage. I came across this Shaker Storage Cabinet article, liked the overall design, and decided to take on the project. I had just started getting excited about woodworking and had purchased an older Delta Contractors table saw and wanted to test it out (after spending quite a bit of time tuning it up). Almost all the cuts and joi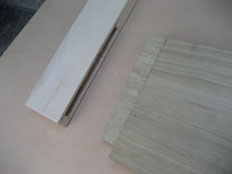 nery for this project were done on the table saw. This project taugh me quite a few things...mostly what not to do. I learned about glue-ups, frame and panel doors, face frames, and staining (errrr...staining!!). As I was just starting out, this project was a nice introduction to using hardwoods (poplar is nice and cheap). As you will notice, in the original article, the cabinet is painted. In my infinite wisdom, I decided to try and stain my cabinet (I like the look of wood grain and thought my cabinet w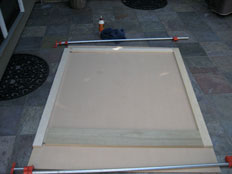 ould have a cleaner look not being painted). I was very happy with the final construction and I was even excited enough to take a few pictures of the mortise and tenon joinery I used when making the face frame along the way. However, I definitely jumped too fast into the staining. I decided to use an all-in-one stain and sealer. I applied it to the frame and panel doors first and after letting it dry, realized it was ugly. I spent quite a bit of time sanding it back down and tried again. I used a different all-in-one stain and sealer, but didn't get much better results. By this time, I was pretty fed up with the project and was too tired of sanding. I still don't like the look of the blotchy stain, but we use the cabinet everyday and it is quite functional. From this experience, I now believe at least as much time should be spent preparing, staining, and applying a top coat as cutting and buildin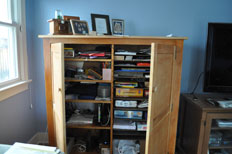 g. I also have learned to really test out the stain on some scrap pieces before jumping all-in and regretting my decision later. I also learned that not all hardwoods are equal and that poplar is a difficult wood to stain and could really benefit from applying some type of pre-conditioner. This may be one reason why the cabinet in the original article was painted. Someday my cabinet may move out to the garage and live its life outside as a place to store odds and ends. For now, it remains in our house and a reminder to me to be patient and not rush through a project (easier said than done!).
UPDATE - 2013, We redid our living room and the Shaker cabinet has made the move out to the garage. It is a nice storage cabinet for my tools and other garage items. No hard feelings! I am glad it lasted as long as it did inside.

Seed Planter Boxes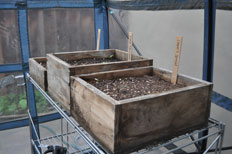 Time of build: early 2009
Built for: My wife
Wood used: left over 3/4" plywood from the Garage Bench project
Description: These simple planter boxes for starting seeds were nothing special. Most of the cuts I was able to do with my mitre saw. No fancy joinery, just butt joints and screws. They have served us well and several crops have been started in these small boxes. A quick project that used some leftover wood and made my wife happy. Happy wife = Happy life!

Garage Bench (my first real project)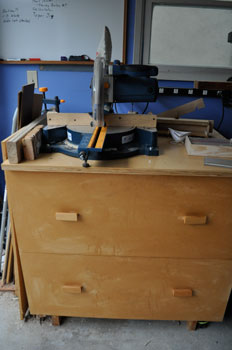 Time of build: late 2008 - early 2009
Built for: Garage storage and a place to put my compound mitre saw
Wood used: 2x4s, 3/4" plywood, 1/4" hardwood top, 1/2" mdf drawer fronts
Description: This 2-drawer bench has oversized drawers to fit my toolbox and other random tools. Following my father's advice, I built this bench with enclosed drawers to have storage protected from the sawdust that would eventually get produced in the garage. I got to build part of this project with my brother when he was visiting, and I learned it is always better to have another set of hands (e.g., Chris, hold this finishing nail while I take a whack at it with this framing hammer...). When you don't know what you are doing, it is also good to have someone else around to talk some things through. I designed the bench in Solidworks and it stayed fairly consistent with my initial drawings. The top was sized to the mitre saw (my only real tool at the time). While I was away at work one day, my Dad made and installed custom drawer handles from leftover 2x4 pieces (Thanks Dad).
Some of the original SolidWorks pics and plans: